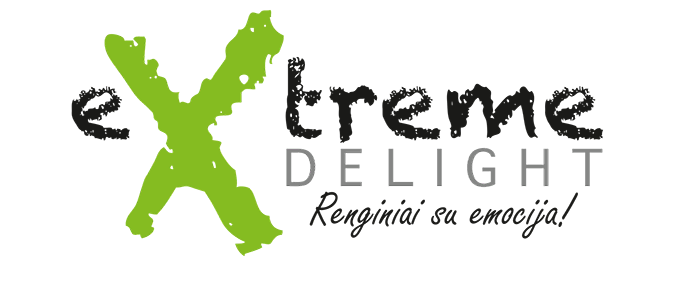 "ExtremeDelight" - is a company that organizes various types of entertainment events. The company develops its activities throughout Lithuania and also cooperates with foreign representatives.

Our vision

To be credible and leading business in the organization of entertainment events, as well as to be innovative and open to suggestions.

Mission
To provide high-quality and professional services, while justifying the expectations of customers.


Goals:
To provide safe, high quality services for our customers ;
To meet the needs of every client;

To enlarge the variety of offered services and entertainment while maintaining the focus on quality

;

To actively search for new business partners and new opportunities of cooperation with foreign countries.

Our clients - our friends, to whom we offer only the best entertainment events and services that leaves a big and lasting impression.
"ExtremeDelight"
offers a range of entertainment events from very extreme to peaceful and relaxing to ensure everyone finds an activity according to their needs. You will be able to enjoy the activities in the air, water and on land. Each pastime gives not only pleasure, but also a dose of adrenaline. The young and energetic "ExtremeDelight" team is always ready to offer the most appropriate and most extreme entertainment options for people who like adrenaline, according to your needs.

For companies we offer:

Team building events;
Conferences;
Seminars;
Gatherings;
Business celebrations and events by desire.
We work in all of Lithuania.

We are always ready to organize a celebration together in order to achieve the best result.

Our motto - Catch the adrenaline and feel the pleasure!
This site uses cookies. They can identify logged-in users, collect statistics, and help to improve browsing experience for each visitor individually.